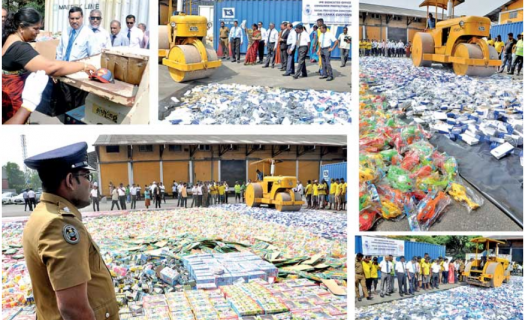 In commemoration of International Customs Day, which falls on 26 January, an event where counterfeited and pirated articles forfeited by Sri Lanka Customs were destroyed was held yesterday at the Orugodawatta container yard in the presence of Sri Lanka Customs Director General P. S. M. Charles. Sri Lanka Customs Additional Director General T. A. L. Weerasinghe was also present among other officials.
This theme of this year's International Customs Day is 'A Secure Business Environment for Economic Development', including fighting against Counterfeiting and Piracy. In commemoration of International Customs Day on 26 January, the Consumer Protection Unit of Sri Lanka Customs together with Policy Planning and Research Division organised this ceremony to destroy the counterfeit goods forfeited by Sri Lanka Customs under the patronage of Sri Lanka Customs Director General P.S.M. Charles.
One of the missions of the Sri Lanka Customs is protection of society and the environment. In this endeavour, a Social Protection Directorate was established in the Customs Department. The Consumer Protection Unit is functioning under the Social Protection Directorate with the objective of protecting the rights of consumers. In 2015, the Intellectual Property Dedicated Office was established in the Consumer Protection Unit. The IPR Dedicated Office of Sri Lanka Customs intercepts import goods and forfeits counterfeit and pirated goods.
A considerable amount of counterfeit and pirated goods are trading in the international trade, causing great damage to the health and safety of consumers as well as to the environment and the economy.
Counterfeit goods manufactured with poor standards cause numerous accidents to children. It has been demonstrated by research that counterfeit children's toys manufactured with inferior quality raw materials and low-standard manufacturing processes causes harm to children. This applies to all counterfeit goods.
It is very important to indicate that all import or export of counterfeit and pirated goods is prohibited under Customs Ordinance read with Intellectual Property Act No. 36 of 2003. The Consumer Protection Unit gives preference to the health and safety of consumers and target these illegal counterfeit and pirated goods. - Pix by Ruwan Walpola