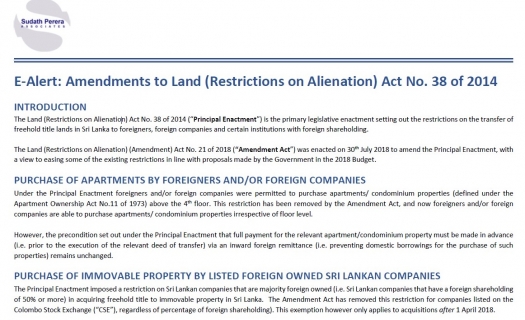 E-Alert: Amendments to Land (Restrictions on Alienation) Act No. 38 of 2014
INTRODUCTION
The Land (Restrictions on Alienation) Act No. 38 of 2014 ("Principal Enactment") is the primary legislative enactment setting out the restrictions on the transfer of freehold title lands in Sri Lanka to foreigners, foreign companies and certain institutions with foreign shareholding.
The Land (Restrictions on Alienation) (Amendment) Act No. 21 of 2018 ("Amendment Act") was enacted on 30th July 2018 to amend the Principal Enactment, with a view to easing some of the existing restrictions in line with proposals made by the Government in the 2018 Budget.
PURCHASE OF APARTMENTS BY FOREIGNERS AND/OR FOREIGN COMPANIES
Under the Principal Enactment foreigners and/or foreign companies were permitted to purchase apartments/ condominium properties (defined under the Apartment Ownership Act No.11 of 1973) above the 4th floor. This restriction has been removed by the Amendment Act, and now foreigners and/or foreign companies are able to purchase apartments/ condominium properties irrespective of floor level.
However, the precondition set out under the Principal Enactment that full payment for the relevant apartment/condominium property must be made in advance (i.e. prior to the execution of the relevant deed of transfer) via an inward foreign remittance (i.e. preventing domestic borrowings for the purchase of such properties) remains unchanged.
PURCHASE OF IMMOVABLE PROPERTY BY LISTED FOREIGN OWNED SRI LANKAN COMPANIES
The Principal Enactment imposed a restriction on Sri Lankan companies that are majority foreign owned (i.e. Sri Lankan companies that have a foreign shareholding of 50% or more) in acquiring freehold title to immovable property in Sri Lanka. The Amendment Act has removed this restriction for companies listed on the Colombo Stock Exchange ("CSE"), regardless of percentage of foreign shareholding). This exemption however only applies to acquisitions after 1 April 2018.