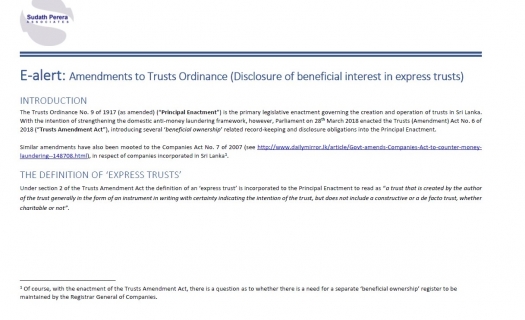 E-alert: Amendments to Trusts Ordinance (Disclosure of beneficial interest in express trusts)
INTRODUCTION
The Trusts Ordinance No. 9 of 1917 (as amended) ("Principal Enactment") is the primary legislative enactment governing the creation and operation of trusts in Sri Lanka. With the intention of strengthening the domestic anti-money laundering framework, however, Parliament on 28th March 2018 enacted the Trusts (Amendment) Act No. 6 of 2018 ("Trusts Amendment Act"), introducing several 'beneficial ownership' related record-keeping and disclosure obligations into the Principal Enactment.
Similar amendments have also been mooted to the Companies Act No. 7 of 2007 (see http://www.dailymirror.lk/article/Govt-amends-Companies-Act-to-counter-m...), in respect of companies incorporated in Sri Lanka1.
THE DEFINITION OF 'EXPRESS TRUSTS'
Under section 2 of the Trusts Amendment Act the definition of an 'express trust' is incorporated to the Principal Enactment to read as "a trust that is created by the author of the trust generally in the form of an instrument in writing with certainty indicating the intention of the trust, but does not include a constructive or a de facto trust, whether charitable or not".